Adventure. Freedom. Connection.
You're here because you love riding off-road, and we're here because we've got the best natural dirtbike playground on Earth.
Set against the backdrop of the majestic Carpathian Mountains, our base in the heart of Transylvania has got everything an off-road rider can wish for: fast-flowing gravel roads, endless forest trails, vast open spaces to open up that throttle and gnarly single track to put your skills to the test.
Unbridled freedom of riding in the Transylvanian mountains and forests is what makes our hearts sing and our bikes braap, and we'd love to invite you to come ride with us. 
Did we mention Transylvania's also got delicious food, vampires on the loose, and cold beers after a hard day's ride? Experience off-road riding in Transylvania!
We're off scouting new routes, mountain passes, and forest trails on dirtbikes!
The Enduro Escape team is a bunch of friends who love riding Transylvania so much we want to share this hidden gem with the world.
Istvan, Toni and Sanyi are the core of Enduro Escape, and our mission is simple: you come as a customer and leave as a friend.
Whatever your riding level, we're here to show you our best riding trails, take you out on the mountain passes, help you improve your riding, and have ridiculous fun in the process.
We're always out there scouting new routes and designing new experiences for riders and we've got something for everyone.
Experienced enduro pros, adventure riders, dirt bike maniacs, couples who love riding together, female riders who kick butt – we love riding with everyone and we're here to make sure your Transylvanian riding experience will be an unforgettable one.
Put that phone down. Book a flight.
Enduro Escape Tours 2023 Dirt bikes. Transylvania. Mountains.
Need we say more?
We welcome all riding levels!
Novice? Experienced? Romaniac?
We'll get along great—and take your riding to the next level!
Double Dipper
Short but adrenaline-soaked two-day ride
Three Day Throttle
Long weekend sneak-away in the Carpathian Mountains
Dracula's Brunch
Four days of pure enduro bliss, with an option to upgrade
The Full Monty
All-in 5-day of exhilirating enduro ride
Our tours are designed for every level of off-road riders from complete beginners to advanced enduro maniacs. Istvan will chat to you about your riding experience and expectations before your trip, and Toni and Sanyi will make sure you're comfortable when out riding.
The ride is only fun if you're enjoying the trip, so while we will challenge you and help you improve your skills, we'll also make sure you're always in control. During the tour, Toni and Sanyi will closely monitor your skills, tiredness, and focus to make sure you're pushing your edge but doing it safely and having a stupid amount of fun in the process.
We welcome solo riders, groups, and couples, and we especially love seeing more and more women riders joining our tours!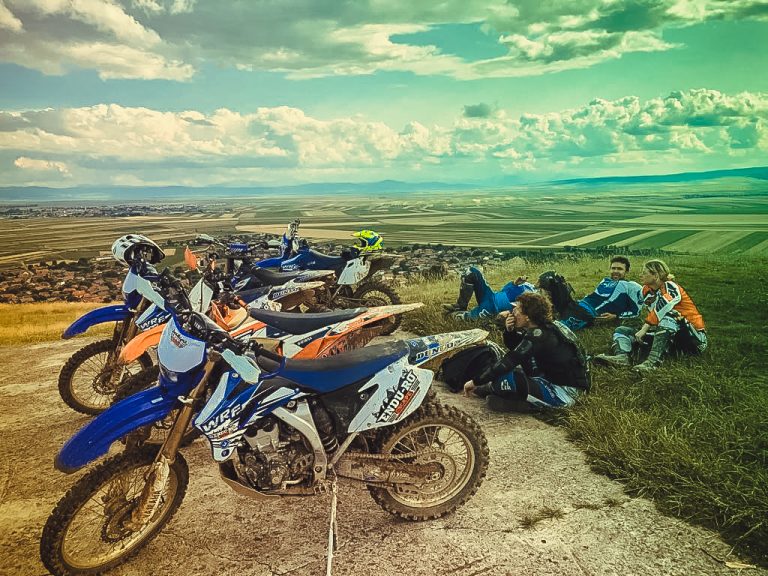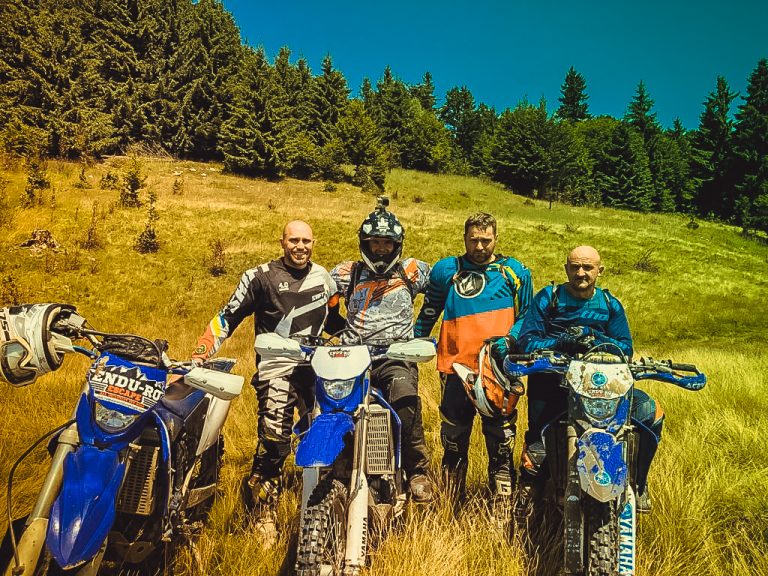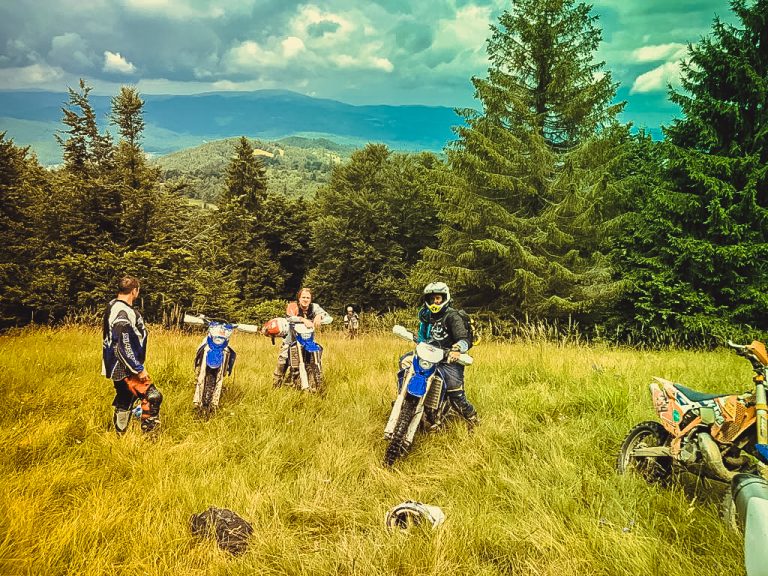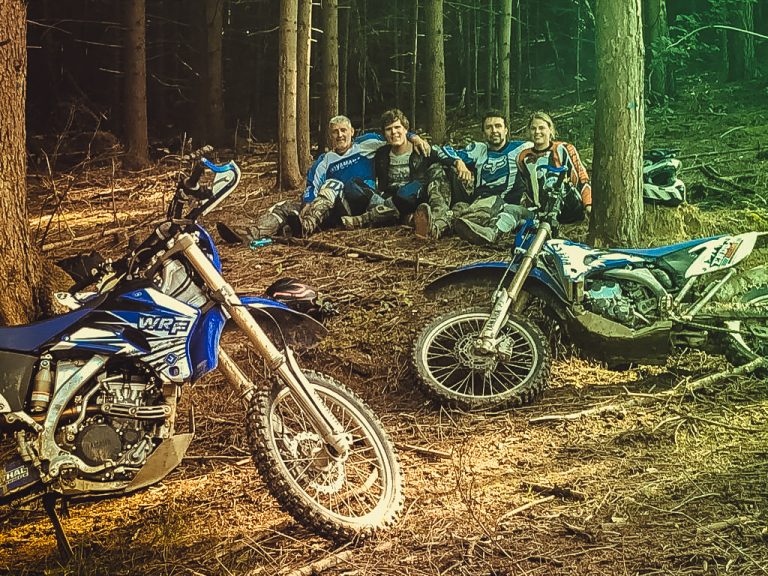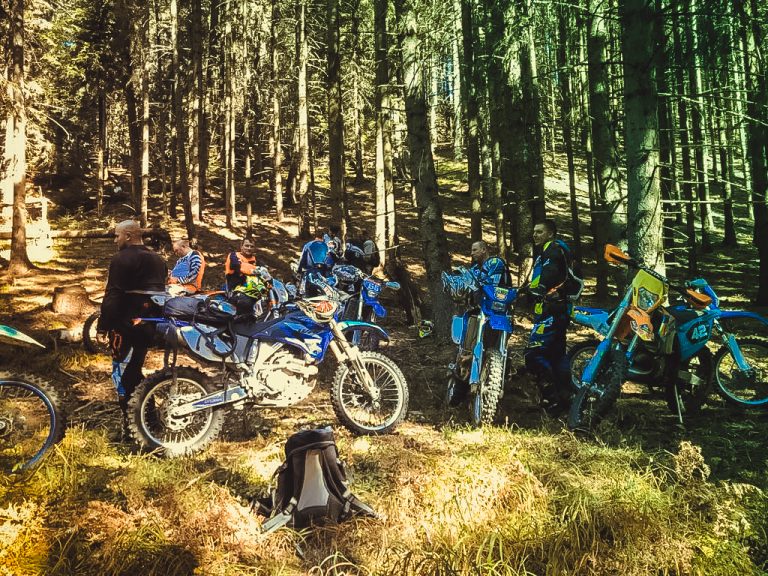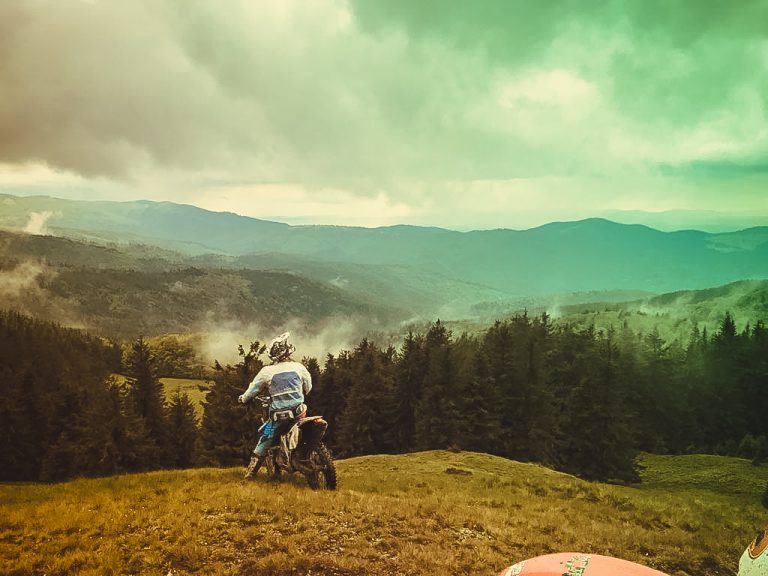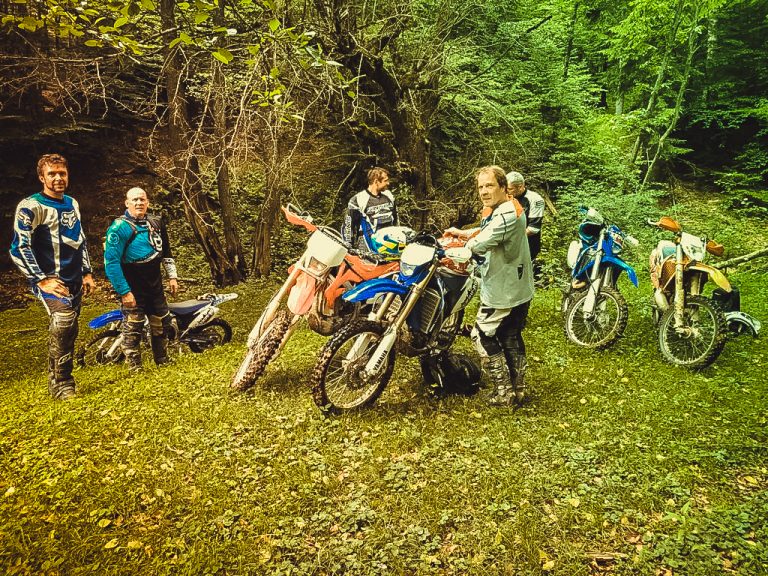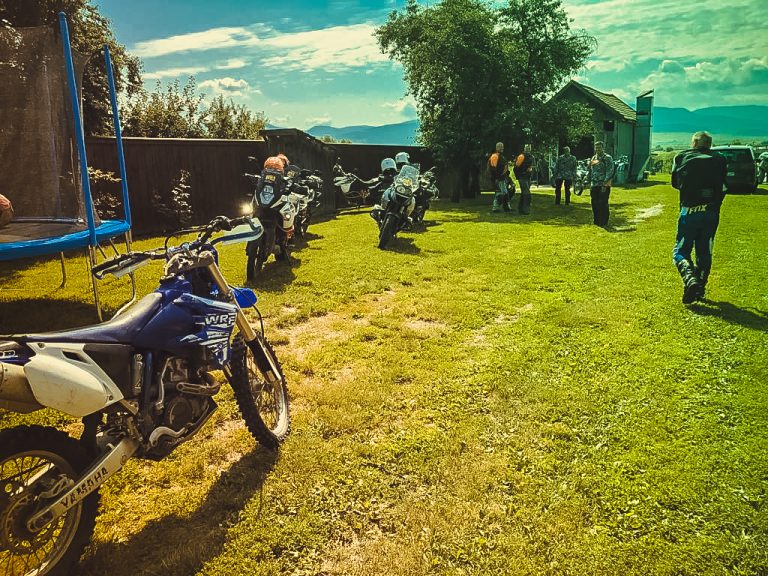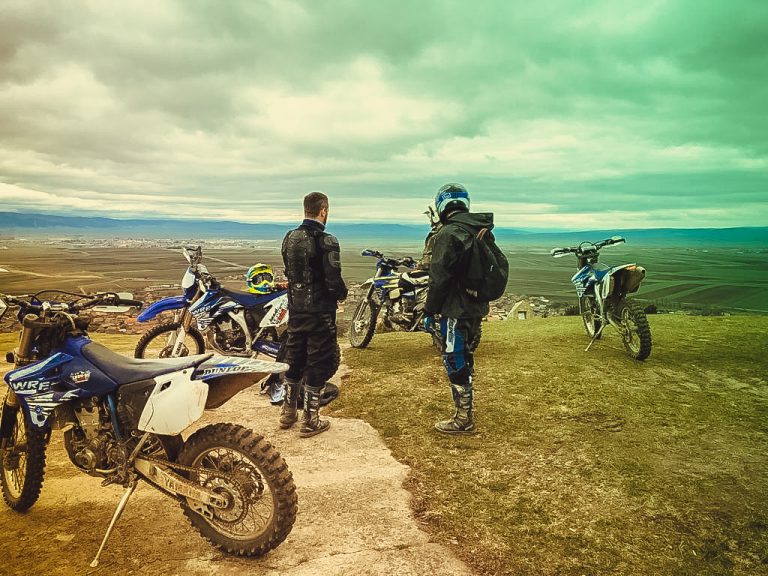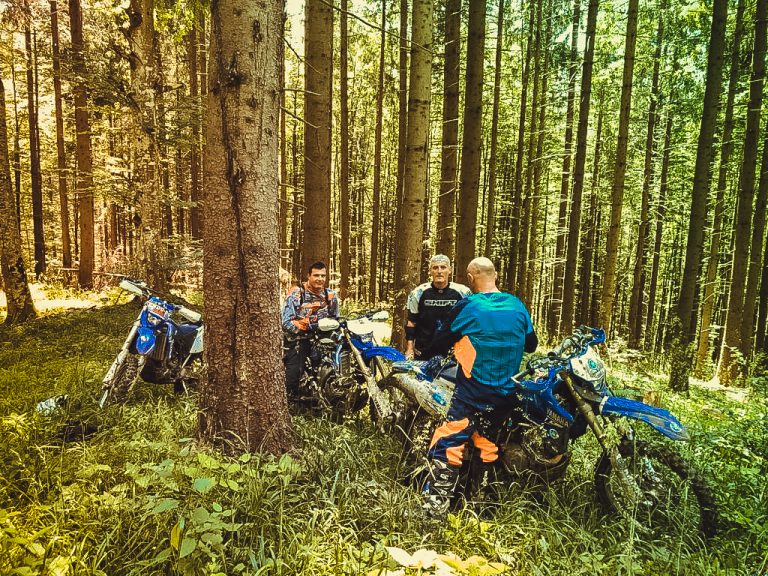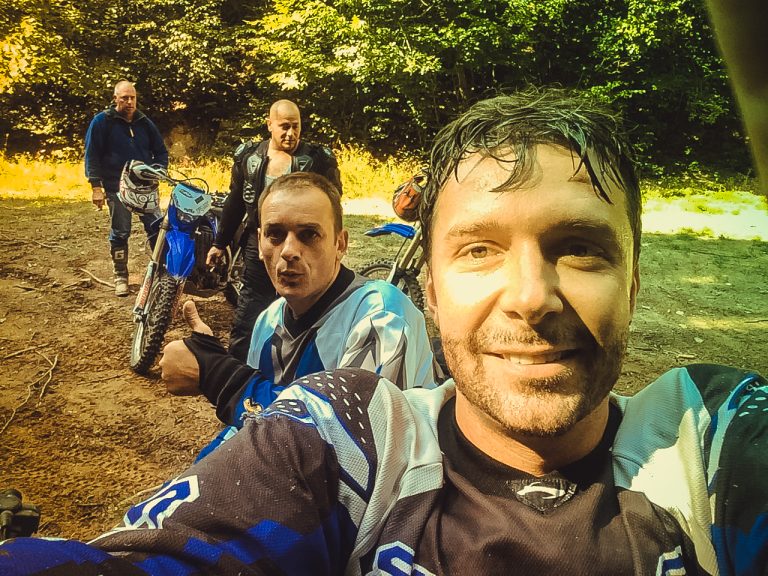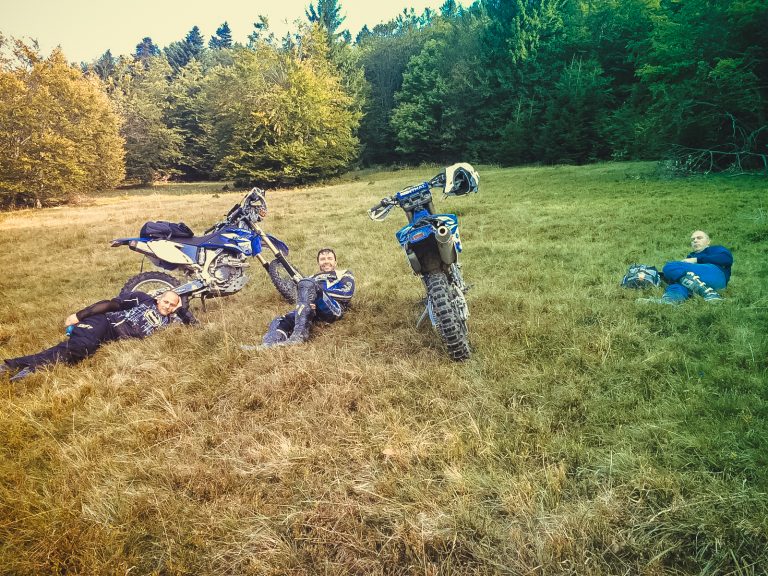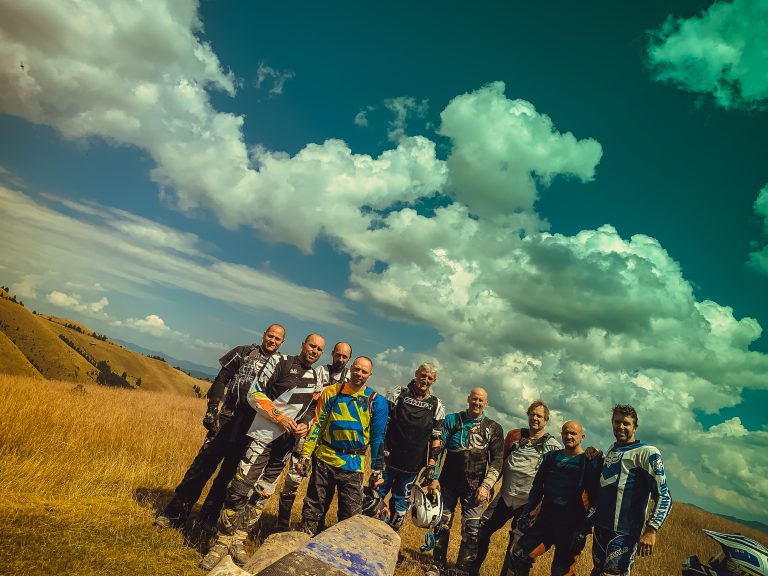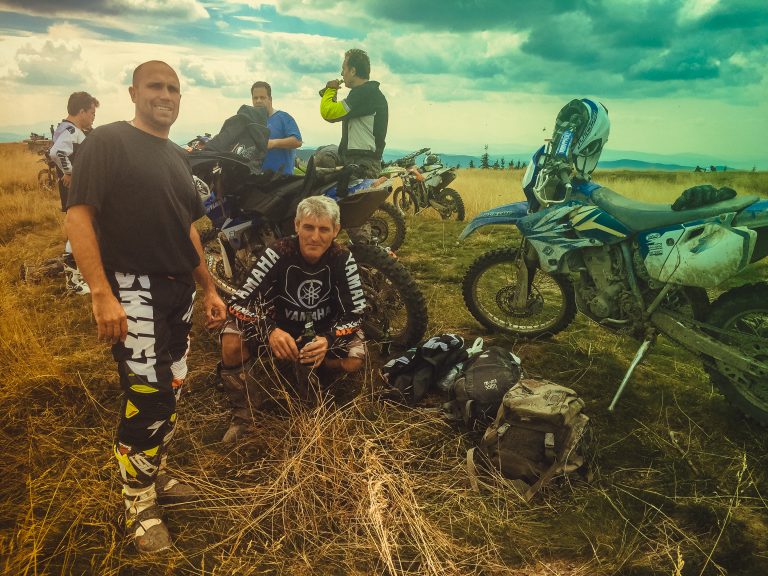 Egle G.
@egleontheroad
I wasn't really sure what to expect when Gabriella and I set out to ride with Romania EnduRo Escape Tours🤷‍♀️🇷🇴 All we knew was that there would be two enduro nutcases, Toni and Sanyi, meeting us in Transylvania, and that we'd go out riding WR250's. Obviously, that was enough to entice us to come to Romania, but we had no idea we'd be in for three days of unparalleled hospitality, crazy mountain and forest trails, ridiculous fun AND a steep learning curve. Even though I had a flying dismount and couldn't ride for the full three days, I feel that I've still got a taste of what enduro and hard enduro is all about - and I want more🥳🤩 The cool thing about the Enduro Escape crew is that they're chilled out, kind, and friendly, but when on bikes, they do push you to do more than you thought you were capable of. I sure as hell didn't think I could do gnarly steep hill climbs covered in slippery forest leaves, survive miles of babyhead rock-littered single track, or jump off things, but here I am having done it all🥳😎 We were treated like long-lost friends the whole time, shown around the spectacular Bran castle (yes, the Dracula one), had some delicious local food and beer, laughed our asses off, and were sent home with a bottle of palinka - local Transylvanian moonshine - and the warmest memories ever💜 Before I left this morning, Sanyi also found the time to fix Lucy's blown front sprocket seal. As I travelled the winding Romanian roads today, I kept staring at forest tracks, hills, and mountains thinking 'yep I could do that', 'yep I could get up that climb now'. This is a first for me and I'm still revelling in the post-Enduro bliss🥰☺️ Thank you for being so genuine and awesome, Enduro Escape - and see you next year!
Gabriella Linford
Australia
I spent 3 days riding with Enduro Escape and absolutely loved it. The general vibe is very friendly and relaxed giving the feeling of riding out with a bunch of old mates. The guides, Sanyi and Toni, were super encouraging and genuinely loved to see our riding improve day by day. They also went above and beyond to make sure absolutely everything was taken care of for us and we didn't have to pull our wallets out once! These guys take 'all inclusive' to a new level! I can't wait to return and ride again with these new friends.
Kris B.
Germany
I was here the second time in 2019 and really can't say only good about Toni and his team. While not all of the group speak english, there is always someone with english-knowledge and all of the team are super helpfull, irrespective of language. While the core-business is hard-enduro on light bikes, we visited Toni with bigger adventure bikes on our way through Romania. Some of our group wanted to do the hard-enduro tour on the light bikes, but some (less experienced) wanted to do a more easy route suited for the heavy enduros. Without hesitation Toni and his team arranged a second guide that could take this second group. They had a great time on their route and small technical issues/damages were solved without any problems. All of the Enduro-escpe-team are helpfull without any concern of their on time or fun. Great team. For the hard-enduro-group I can't say more than that I am still smiling when thinking about it. I will come back, that above all is certain.
Karen
The Netherlands
Fantastische ervaring mee gemaakt met Toni en Johny! Als enige vrouw best pittig, maar de mannen hadden veel geduld en mij in in no time op een redelijk level gebracht! Ze gaven mij vertrouwen en waren bovenal geweldige gesprekspartners in de avond met een biertje! De slogan past perfect!
JOOP
Germany
We took to the woods with enduro bikes with some friends, all very experienced enduro riders. We were guided by friendly locals and accompanied by a few of their friends, making it a decent group. The bikes were in top shape and, giving the ride, there are no conplaints about minor damages along the way, caused by the riding. The riding itself is out of this world. I have never been at a place where such open riding is still possible. As said the riding is beautiful but tough, this is as hard enduro as you'll get (if you want) in a beautifull scenery. So if you are unsure about your skills don't hesitate to let your guide know upfront to pick up the pace slowly. Also any comments during riding are more than welcome and the route will be adjusted. Logisitics (airport pickup, hotel) were topnorganized. English is no problem as there is always one person present with good English language skills to translate where needed
Joska
England
Excellent time I had in Romania, was absolutely amazing. Such a beautiful place and the the bikes were superb! Lovely and friendly atmosphere and the guides were super! Will definitely be coming back soon!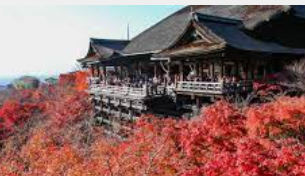 Simon
Japan
None of my friends were available for the trip I booked across Japan's Golden Week holiday period so I went on my own. I had no expectations of the tour package I booked and was just hoping for an interesting and challenging experience: new people, new culture, new riding trails.Red Bull Romaniacs had given me an image of what I could expect so was looking forward to riding in similar terrain - it was just like you see in the photos. The first indication that this was going to be a good trip was being met at 1:30AM at the airport by Sanyi and Toni, my riding buddies and hosts for the week. It was a 3 hour drive back to their base and coming all that way just to pick me up and get me to my hotel was an indication of their commitment and dedication to make my Romanian experience memorable. These guys are really good riders, know the massive riding area like the back of their hand and are always ready to work with your preferences. They've been riding through this region for decades so any kind of requests you have in terms of riding they can accommodate. I had asked for technical forest trails and hill climbs and we did plenty of that and more. On each of the days' riding, they brought along one or more riding buddies with 8 joining us on one of the days. The enduro riding culture is clearly a thing in the region with the trails literally within 10 minutes of the town where we were based. Communication was not a problem with Toni interpreting when required but everybody I met speaks the language of bikes so no issues! The bike I rode was a 2013 KTM 300 EXC 6 Days. I had selected that in preference to a new WR250 Yamaha as I prefer the lighter weight and two stroke power delivery in technical terrain. We had a couple of issues with the bike (which I battered mercilessly) but nothing we couldn't fix quickly. In addition to the varied riding trails, they also made sure to take me to a new place every day for some really good local food at lunch. The Westfalia hotel where I stayed was comfortable, welcoming and the owner was friends with Toni and Sanyi. Everybody was working together to make the trip enjoyable and memorable. On returning home to Tokyo, I met with friends to tell them all about it over beers and we're going to get a small group together for a return trip in the autumn. The weather in April was very changeable with a couple of storms to make things more interesting so hopefully it will be drier in the autumn. Recommendations: bring all of your own riding gear and be prepared in case of rain. Best to take a rest day across the 4 or 5 days of riding to recover and help avoid injuries through tiredness. In summary, it was the warmth and friendliness of Toni and Sanyi and their friends that made the whole experience so positive.
Immer H.
The Netherlands
We took a 2 day Enduro tour, we started as beginners and got better and better. With these guides you can start from 0. They can also do the most extreme tours because they are really professional! The accomodation is way better than expected. With all inclusive it really is ALL inclusive. Breakfast, lunch, dinner, drinks, gear motorbike etc. etc. 5 out of 5 stars because we enjoyed our tour with these guys so much!
Stephen O.
Canada
We spent the month, July 2019, in Eastern Europe with the intent on riding enduro. Our time was evenly split 10 days each in Serbia, Bulgaria and Romania. In each country we had booked a multi day enduro tour. Each tour was set up in a similar fashion, pick up and drop ff at the airport, all inclusive accommodations, bikes, gear (if needed) and experienced guides. EnduRo Escape was the 3rd Tour on our itinerary and by far the absolute best. The guides, Sanyi and Toni, were excellent at assessing our skill level then finding routes to challenge us each day and Istvan was an excellent host. Our skills grew exponentially! I cannot say enough about how well we were treated and how quickly we felt right at home... it was more like riding with friends than with a tour group. Out of the 3 countries I'd return to Romania in a heart beat.
Patrick Armstrong
Canada
Hey Istvan, I wanted to make a point to msg Toni to make sure he knew what a great time I had. It really was like a trip to visit old friends and just hang out for the week. It didnt feel a 'tour' at all. It was f#cking awesome. Lol I would go back this week if I could and will first opportunity I get. Just to hang out and ride.
Book your enduro touring experience in Transylvania now and get ready to explore the stunning scenery, rugged terrain, and mystical castles of this breathtaking region! Don't miss out on this once-in-a-lifetime opportunity to challenge yourself and experience the thrill of off-road riding on some of the most spectacular routes in Europe. Book now and let us take you on an unforgettable journey through the Carpathian Mountains!